Teams will be updated once the lineups are announced.
Match details:
New Zealand Basketball League
Hawkes Bay Hawks vs Canterbury
Date: 6th August 2022
Time: 8:30 AM IST
Preview:
Canterbury will face Hawkes Bay Hawks in the New Zealand Basketball. Canterbury have won 8 and lost 9 games so far this season, placing them 7th in the standings. Hawkes Bay Hawks, on the other hand, have won 9 matches and lost 8. They are currently 6th in the points table. This will be an exciting clash, as both teams will be battling it out to advance up in the points table. Bay Hawks will be the favourite to win this game. The last time these two teams met, the Bay Hawks team won 71-73.
Recent form:
HBH - WLWLL
CR - WLLWL
Injuries:
N/A
Probable starting lineup:
Hawkes Bay Hawks
T. Agee
J. Kenny
J. Hunt
J. Salt
E. Rusbatch
Canterbury
L. Austin
W. Brown
S. Dech
M. Karena
M. Moyer
Top picks:
Ethan Rusbatch: Rusbatch has the ability to score a lot of points in both the offensive and defence areas, and he will be looking to repeat his performance in this match. He is a good SP choice for our fantasy team.
Last Match: 17 points, 2 rebounds, 5 assists.
Matthew Moyer: Matthew Moyer, who is an important element of the Canterbury team, needs to contribute more so that he can draw the defence away from the paint and open up opportunities for other players. He has been a consistent performer in recent matches. He does have the potential to provide maximum points and is the perfect SP choice for our fantasy team.
Last Match: 19 points, 20 rebounds, 1 assist.
Star Player and Pro Player choices:
1) Ethan Rusbatch
2) Matthew Moyer
Fantasy team: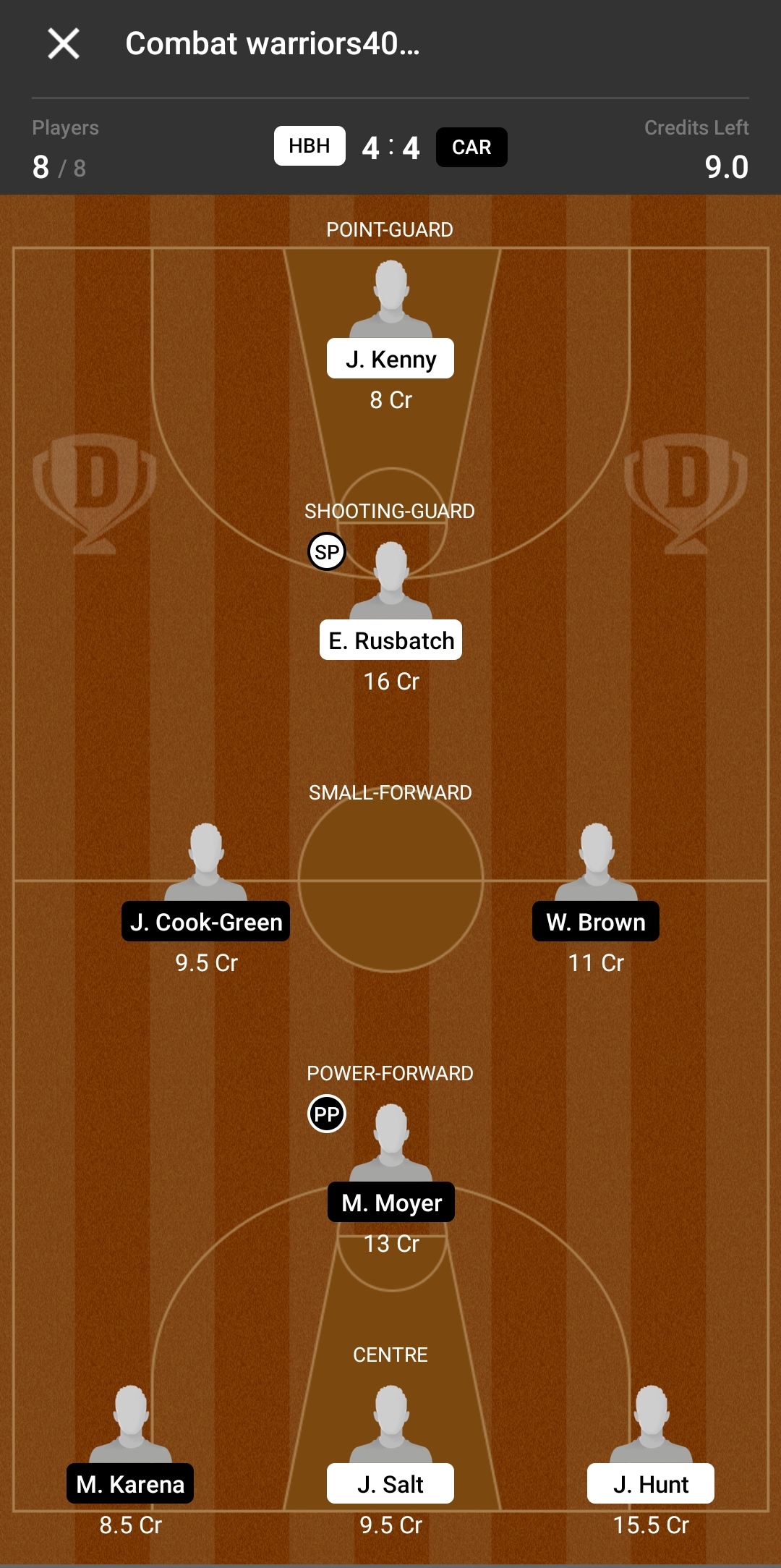 Disclaimer: The views expressed here are of the author and are not a reflection of the actual points you might earn.